Embark on Level 1 – The Alphabet.
Discover the Benefits of Teaching in Alphabetical Order:
✔ Familiarity with the Alphabet
✔ Mastering Alphabetical Sequence
✔ Connecting Letter Names and Sounds
✔ Gradual Introduction of New Vocabulary
✔ Building Confidence for Blending and Segmentation

research has established that children who know the names of letters learn letter-sound associations more readily than those without letter-name knowledge.
Step 1 – Review
---
✔ Correct Letter and Sound Identification
✔ Practice Vocabulary and Sounds on Previous Pages
✔ Verbal, Written, and Distinguished First Sound Identification
✔ Reinforce Vocabulary and Sounds with Flashcards and Games
✔ Utilize Printable Resources for Additional Practice
✔ Collaborate with Online Games for Enhanced Learning Experience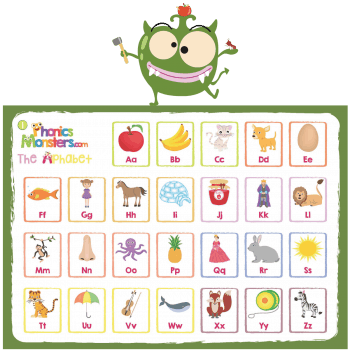 Step 2 – Watch
---
✔ Access Target Animation to Model Letter Names and Sounds
✔ Pause Video for Learner's Interactive Responses
✔ Clarify Vocabulary with Short Definitions, Actions, or Sounds
✔ Engage in Vocabulary Review Together at the Video's End
Step 3 – Focus
---
✔ Confirm Correct Letter Name and Sound Pronunciation
✔ Ensure Confidence in Letter Pronunciation
✔ Employ Guided Repetition for Reinforcement
✔ Avoid Excessive Drilling if Struggles Arise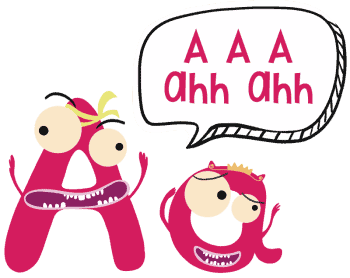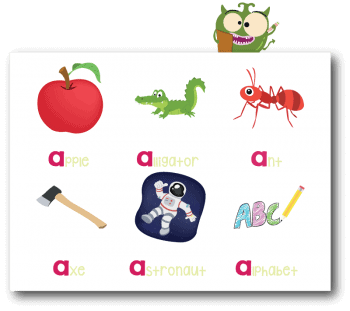 Step 4 – Vocabulary
---
✔ Go Through Vocabulary Words Together
✔ Point or Circle Corresponding Pictures
✔ Elicit Vocabulary Words with Number Calling
✔ Practice Repetition with Focus Sound (e.g., "a a apple, a a alligator")
✔ Get Creative with a "Draw and Guess" Game
✔ Act Out Words, Involve Students in Interactive Learning Fun!
Step 5 – Write
---
✔ Demonstrate Correct Formation on Whiteboard or Online Book
✔ Use Fingers to Show Letter Formation, Encourage Imitation
✔ Add Creativity – Turn Letter Shapes into a Dance!
✔ Model Writing with Letter Sound /a/ before Book Writing
✔ Guide Letter Sound Pronunciation During Writing Practice
✔ Allow Ample Practice Time for Comfortable Mastery.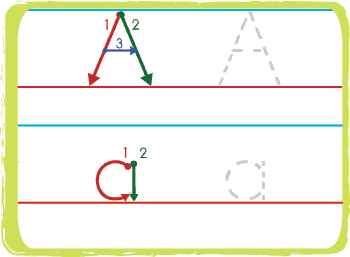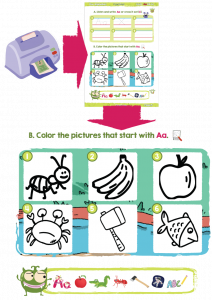 Step 6 – Practice
---
✔ Model First Answers to Familiarize Learners
✔ Allow Guided Experience with Structured Examples
✔ Engage in "A. Listen and write Aa or cross it out (X)" Activity
✔ Practice Identifying First Sounds with Class Interaction
✔ Guide Students through "B. Color the pictures that start with Aa" Section
✔ Cross Out Incorrect Pictures to Elicit Correct Answers
✔ Facilitate Individual Assistance During Coloring Time
✔ Conduct Letter, Sound, and Vocabulary Review
✔ Engage Class in Letter Name and Sound Recall
✔ Reinforce Vocabulary Practice (e.g., a a axe) Together.
Step 7 – Play
---
✔ Enjoy Online Games after Every Two Book Pages
✔ Online Games Enhance Vocabulary Practice
✔ Encourage Speaking Out Vocabulary (Picture-Only Format)
✔ Games Include Numbers, Colors, and Yes/No Answers
✔ Easy Practice for Learners with Various Styles
✔ Utilize Flashcards and Printable Games for Kinesthetic Learners
Step 8 – Sing
---
✔ Watch, Dance, and Sing Along to Catchy Tunes
✔ Engage with the Book: Read Aloud and Identify Pictures
✔ Encourage Learners to Circle or Point to Pictures
✔ Practice Sound and Word Pronunciation (e.g., a a axe)
Step 9 – Print
---
✔ Engaging Student Book/Workbook
✔ Interactive Student Book
✔ Handy Flashcards
✔ Colorful Wall Friezes (Various Sizes)
✔ Extra Pages for Coloring & Writing
✔ Fun Quizzes
✔ Audio Scripts
✔ Exciting Games
✔ Certificate of Completion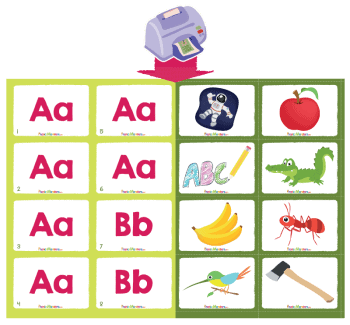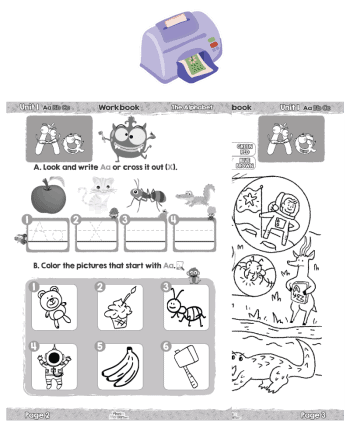 Step 10 – Reinforce
---
✔ Reinforce Lessons with Independent Learning
✔ Offer Guidance When Needed
✔ Encourage Self-Reliance for Learner Empowerment
✔ Foster Metacognition Development
✔ Build Array of Skills and Awareness