Delve into Level 4 – Letter Muddles
✔ Discover Non-Vowel Diphthongs (oi, ow, au)
✔ Unravel R-Controlled Vowels (er, ir, oor, oar)
✔ Learn Common Suffixes (tion, true, cian)
✔ Master Silent Letters for Proficiency.

Reading should not be presented to children as a chore or duty. It should be offered to them as a precious gift.

Step 1 – Review
---
✔ Identify Correct Vowels from Sounds, Words, and Pictures
✔ Practice Word Families with Different Consonants
✔ Recognize Rhyming Words within Word Families
✔ Reinforce Vocabulary and Sounds with Flashcard Games
✔ Enhance Segmenting Skills with Spelling Practice
✔ Read Short Stories, Unit Stories, and Focused Material for Mastery.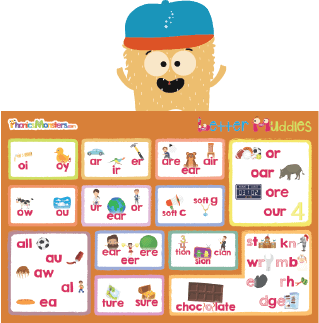 Step 2 – Watch
---
✔ Access Target Animation for Letter Names and Sounds Modeling
✔ Pause Video to Elicit Learner's Answers and Interaction
✔ Clarify Vocabulary with Short Definitions, Actions, or Sounds
✔ Review Vocabulary Together at Video's End
✔ Utilize the Pause Button for Practice and Reinforcement
✔ Enhance Learning with Interactive Video Experience.
Step 3 – Focus
---
✔ Practice Blending for example, "oi" like "oil"
✔ Replace the First Sound with Different Consonants
✔ Ensure Learner Masters Phonics Focus
✔ Practice Verbally and in Writing for Proficiency.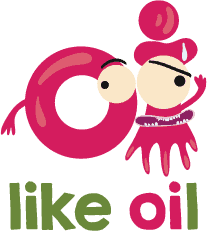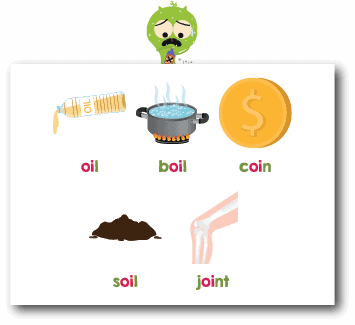 Step 4 – Vocabulary
---
✔ Explore Targeted Vocabulary Words Together
✔ Learners Point to Corresponding Pictures (Circle if Online)
✔ Group Practice in Classroom, then Individual Practice
✔ Elicit Vocabulary Words with Number Calling
✔ Enjoy a "Draw and Guess" Game with Learners
✔ Act Out Words for Interactive Learning
✔ Reinforce with Flashcards for Enhanced Retention.
Step 5 – Practice
---
✔ Each Lesson Focus Includes Engaging Book Material
✔ Utilize Material to Guide, Elicit Answers, and Provide Support
✔ Empower Students with Guidance and Assistance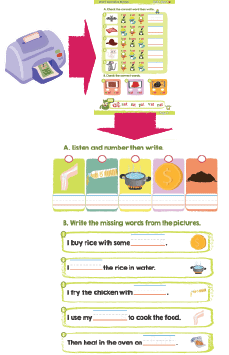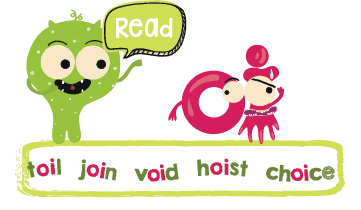 Step 6 – Practice
---
✔ Practice Five Additional Words or Read a Short Story
✔ Explore Writing Target Focus with Different Consonants
✔ Enhance Learning Verbally and in Writing
✔ Introduce Short Spelling Quiz for Added Practice
✔ Engage in Fun and Effective Learning Activities.
Step 7 – Play
---
✔ Reinforce Lessons with Engaging Games
✔ Online Games for Every Two Book Pages
✔ Focus on Vocabulary with Picture-Only Format
✔ Games Incorporate Numbers, Colors, Yes/No Answers
✔ Easy Practice for Learners
✔ Kinesthetic Learners Benefit from Flashcards and Printable Game Activities.
Step 8 – Read
---
✔ Each Unit Focus Comes with a Structured Story
✔ Example: "The Royal Oyster" for Non-Vowel Diphthong oi/oy
✔ Start with "New Words" for Sight Words Introduction
✔ Watch Animation, then Practice Reading in Various Ways:
– Pause Animation & Read Page by Page
– Utilize Online PDFs of Student Books or Storybooks
– Print a Story from Student Book or Workbook
✔ Encourage Learners to Lead While Reading
✔ Provide Assistance When Needed for a Smooth Learning Journey.
Step 9 – Print
---
✔ Engaging Student Book/Workbook
✔ Interactive Student Book
✔ Handy Flashcards
✔ Colorful Wall Friezes (Various Sizes)
✔ Captivating StoryBook
✔ Fun Quizzes
✔ Audio Scripts
✔ Interactive Games
✔ Certificate of Completion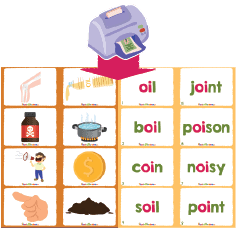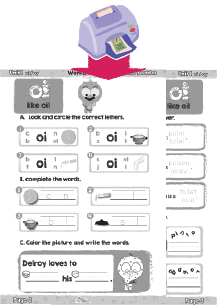 Step 10 – Reinforce
---
✔ Reinforce Lessons through Independent Learning
✔ Provide Guidance When Needed
✔ Foster Self-Reliance for Learner Empowerment
✔ Encourage Metacognition Development
✔ Build an Array of Skills and Awareness